Carillonneur Jan Verheyen
Monday, August 12, 2019, 7 – 8 p.m.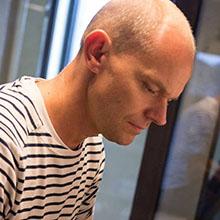 Jan Verheyen is the city carillonneur of Hasselt and Neerpelt in Belgium, but he is also well known for innovating projects that he develops under the name Bells Lab. Bells Lab experiments with bell music. He is also active in the theater world. His first project was Rocky het Klokkie (Billy the Bell), a theater performance for children in which the children learn about bells, chimes, and carillons. In 2012 – 13, commissioned by the town of Mechelen, he began a large-scale educational project for elementary schools through which about 800 children got acquainted with the carillon in a playful way. From that moment, he started giving workshops with bells and chimes all over the country. He also conducts the handbell choir Bellness. He enjoyed his training at the carillon school in Mechelen and also earned his bachelor certificate for carillon at the Dutch Carillon Department in Dordrecht.
Download a program for Jan's performance.
Preconcert carillon tours and demonstrations are from 5:30 to 6:30 p.m. (every 15 minutes), and concerts are from 7 to 8 p.m.