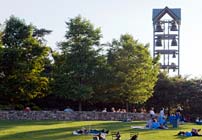 Wylie Crawford
Monday, August 24, 7 p.m.
Preconcert carillon tours and demonstrations 5:30 to 6:30 p.m. (every 15 minutes)
Wylie Crawford is the university carillonneur at the University of Chicago, a position he has held since 1984. Since 1986, he has been the resident carillonneur for the Chicago Botanic Garden in Glencoe, Illinois. He was the first city carillonneur for the Millennium Carillon in Naperville, Illinois.
Crawford has an undergraduate degree in physics and a graduate degree in teaching from the University of Chicago. He initiated the first regular carillon instruction programs at four Chicago-area carillons. He is also president of the World Carillon Federation, a federation of international associations that organizes conferences in countries with a carillon culture. Previously, Mr. Crawford had served as treasurer.
He became a certified carillonneur in 1977 through the Guild of Carillonneurs. He has given carillon recitals in Belgium, Canada, Denmark, France, Japan, Mexico, Netherlands, Sweden, and the United States.