Carillonneur Joey Brink
Monday, August 27, 7 p.m.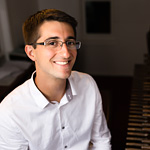 Joey Brink is the sixth university carillonneur at the University of Chicago, where he performs on the 72-bell Rockefeller Memorial Carillon and directs a carillon studio of 20 students. He serves on the board of the Guild of Carillonneurs in North America and co-chairs the Johan Franco composition committee to promote new works for carillon. Brink began his carillon studies at Yale University with Ellen Dickinson in 2007; graduated with greatest distinction from the Royal Carillon School in Mechelen, Belgium, in 2012; and studied further with Geert D'hollander at Bok Tower Gardens in 2015. He received first prize at the International Queen Fabiola Carillon Competition in Mechelen, and has toured North America and Europe extensively as a performer. Brink is regularly a recitalist at congresses of the Guild of Carillonneurs in North America and the World Carillon Federation, most recently as a soloist with the Barcelona Municipal Symphonic Band. He performed the 50th anniversary recital at University of California, Riverside, and the inaugural recital at Salisbury University. He released his first album, Letters from the Sky, alongside his performance at Chicago's Ear Taxi Festival, in 2016. He is additionally interested in the design of practice carillons, and has published and presented on his work to improve the functionality and affordability of practice instruments. He and his wife, Vera Wünsche Brink, perform duet carillon recitals, and are avid outdoor enthusiasts, spending much of their free time camping, hiking, and canyoneering on the Colorado Plateau.