Saturday and Sunday, July 13 – 14, 2019
10 a.m. – 4:30 p.m.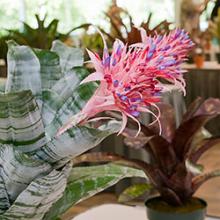 The Bromeliad Society of Greater Chicago show and sale features plants such as pineapples and Spanish moss, which are generally easy to grow, require little care, and reward the grower with brilliant, long-lasting blooms and ornamental foliage. Society members will be on hand; information on growing bromeliads will be provided. Various bromeliads will be for sale. 
*This event will take place in conjunction with the Iris and Daylily Society Daylily Show and Sale.