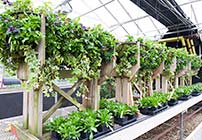 Friday and Saturday, May 19 and 20, 2017
11 a.m. and 1 p.m.
Members only
$5 per person
Meet at the Visitor Center
Join our expert Garden staff for an informative, behind-the-scenes tour of our production greenhouses and nursery. Please wear comfortable shoes and dress for the weather. Registration required, as space is limited.