Providers
 The Garden View Café takes pride in using only products that are in season, all natural, and free of trans fats. Our chefs purchase local and organically grown food whenever possible, and also use produce harvested here at the Chicago Botanic Garden.
We would like to thank the following providers for supporting a mission that is so important to us: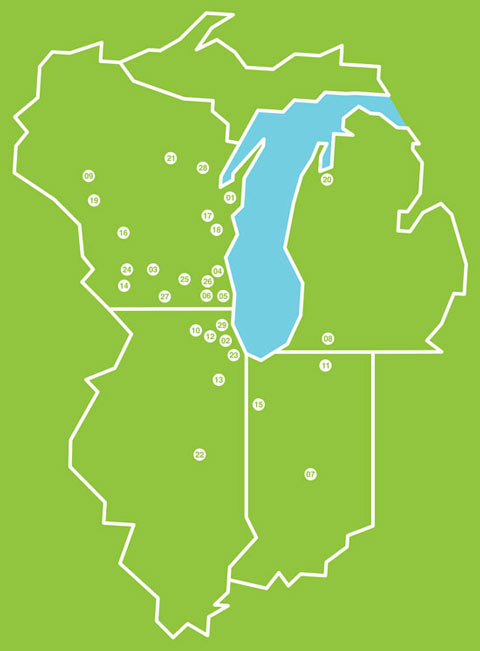 01  BelGioioso Cheese, Denmark, WI
02  Big Fork Brands, Chicago, IL
03  Black Earth Meats, Black Earth, WI
04  Bolanzo Artisan Meats, Milwaukee, WI
05  Borzynski Farms, Franksville, WI
06  Brightonwoods Orchard, Burlington, WI
07  Burton's Maplewood Farm, Medora, IN
08  Daisy Farms, Dowagiac, MI
09  Fitzgerald Family Farm, Osseo, WI
10  Great Lakes Farms, Long Grove, IL
11  Gunthorp Farms, La Grange, IN
12  Harrison's Poultry Farm, Glenview, IL
13  Hoekstra Farm, St. Anne, IL
14  Hook's Cheese Company, Mineral Point, WI
15  K & A Organic Roots, Fowler, IN
16  Keewaydin Farms, Viola, WI
17  Laack Brothers Cheese Co., Greenleaf, WI
18  LaClare Farms, Pipe, WI
19  Mindoro Farms, Mindoro, WI
20  North Bay Produce, Traverse City, MI
21  Nueske's Smoked Meats, Wittenberg, WI
22  Prairie Fruits Farm, Champaign, IL
23  Red Hen Bread, Chicago, IL
24  Renaissance Farm, Spring Green, WI
25  Schroeder Produce, Cambridge, WI
26  Strauss Brands, Franklin, WI
27  Sugar River Dairy, Albany, WI
28  Sweet Grass Farm, Suring, WI
29  Windy City Harvest Youth Farm, Waukegan, IL
Sustainability at Work
Composting
In 2008, the Garden stopped selling bottled water, and in 2011, the Garden expanded its dishwashing and storage areas in order to change from using disposable plates, bowls, and flatware to using reusable chinaware. Also in 2011, the Garden began incorporating composting of food scraps and appropriate materials into its café operations. With the help of our customers, the Garden is able to divert 38 tons of waste annually from the landfill by composting and recycling.
ReCORK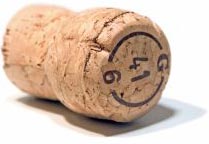 The Chicago Botanic Garden has partnered with ReCORK to recycle wine corks from the Garden View Café and on-site special events. Be part of the effort. Save your used, natural wine corks (no plastic or metal, please) and bring them to the Garden View Café. Recycled cork can be used in flooring tiles, building insulation, craft materials, and sports equipment. ReCORK's recycling program also educates audiences about the role cork forests play in curbing climate change, and encourages companies to make more sustainable products.