June 15 – October 15, 2017
Bold. Vibrant. Biodiverse.
Celebrate the influence of Brazil on gardens, arts and culture, and conservation.
All season long, you can Go Brazil! Look for vibrant foliage, contrasting textures, and sweeps of color, from the silver leaves of Bismarck palms to towers of burgundy bromeliads, in the gardens. Learn more about the bold garden design and art of influential Brazilian Roberto Burle Marx. Take a class on Brazilian cuisine or designing with tropicals. Attend a lecture about Brazilian biodiversity, habitat conservation, and other important topics. Sample Brazilian dishes. Try out your samba and bossa nova moves, and kick back with Brazilian jazz.
Brazil in the Garden: This is what vibrant looks like.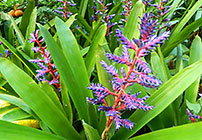 Go Brazil!

 In the Gardens

See bold and beautiful designs inspired by Brazilian Roberto Burle Marx and tropical plants not normally seen in the Chicago area from the entrance beds at the Visitor Center to the Circle Garden to the Regenstein Fruit & Vegetable Garden.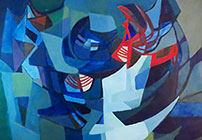 Learn how the Brazilian landscape architect and artist changed tropical gardening forever in an exhibition in Joutras Gallery.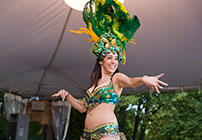 Go Brazil!

 Music and food

Ready, set, samba: Hone your dance skills at Hot Summer Nights, and take a musical journey at Music on the Esplanade and more. Experience the flavors of Brazil in the Garden Chef Series and at the Garden View Café on select dates.

Brazilian music nights:
June 15 – Planeta Azul (Brazilian Carnival)
June 20 – Carpacho Super Combo (Brazilian/Latin Jazz)
July 18 – Rio Bamba (Brazilian Jazz)
July 20 – Dill Costa Quartet (Brazilian Samba)
August 15 – Luciano Antonio Quartet (Brazilian Jazz/Bossa Nova)
August 17 – Chicago Samba (Brazilian Samba)

Brazilian chef demos:
June 17 – Jorgina Pereira from Sinha
July 1 – Cristiane Pereira from Taste of Brasil Café
July 30 – John Manion from La Sirena Clandestina