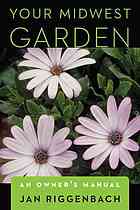 Publisher:
University of Nebraska Press
paper, 260 pp., $24.95
This well organized and easy to read book by Riggenbach, a syndicated garden columnist, describes a variety of plants, from annuals to herbs to vines, that thrive in the Midwest. Sixteen leaves of color plates, featuring photographs by the author, in the middle of the book enliven her hands–on descriptions of growing conditions and techniques. An appendix provides a monthly calendar on gardening activities, useful to both beginner and horticultural veteran. Think of this book as a handy reference guide, providing gardening information not only on the usual "suspects" but also unusual plants that you might consider adding to your garden.
— Elaine Juhl, volunteer, Chicago Botanic Garden