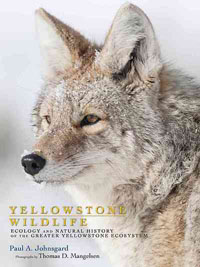 Publisher:
University Press of Colorado
Paper, 248 pp., $29.95

If this book had nothing but the amazing photographs by famous nature photographer Thomas D. Mangelsen, it would provide wonderful insight into Yellowstone wildlife. With the addition of Paul Johnsgard's geological and ecological history of the area, descriptions of the plants found there, and his recounting of the life and death struggles of the animals, it offers invaluable information about this unique region. He has also added a number of beautifully detailed drawings of many of the birds and animals. Johnsgard's prose is almost poetic in describing their mating habits, care of their young, and battles to survive. Johnsgard is professor of biological sciences at the University of Nebraska-Lincoln, author of more than 50 books on bird groups and the ecology of the Great Plains. He also discusses the problems of overpopulation of some wildlife. The appendices at the back of the book provide information on where to observe wildlife in the region. There is also a list of Latin names mentioned in the text. 
- Joan Richards, volunteer, Chicago Botanic Garden.