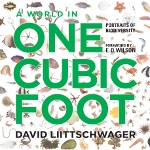 Publisher:
University of Chicago Press
decorated boards, 203 pp., $45.00
Photographer David Liittschwager collaborated with a number of different specialists in this presentation about the natural world around us. In a series of intensely beautiful photographs, he and a group of experts explore the world's biodiversity just beneath and beyond our feet. A shovelfull of earth reveals amazing animal and plant life, enlarged to expose incredible forms. As the only planet known to have a biosphere, Earth has amazing habitats. The contents of this picture book include examples of different species found in a saltwater bay (under the Golden Gate Bridge in San Francisco, examined by August Kleinzahler), a cloud forest (Monteverde Cloud Forest Preserve in Costa Rica, treated ever so briefly by Nalini M. Nadkarni), a coral reef (Temae Reef in French Polynesia, analyzed by Elizabeth Kolbert), a deciduous forest (Hallett Nature Sanctuary in New York's Central Park, by W. S. Dipiero), a freshwater river (Duck River in Tennessee, by Alan Huffman), and mountain fynbos in southern Africa (Jasper and Peter Slingsby). An endlessly fascinating book, this work will certainly make you look at the most drab plot of land, featureless stretch of river, lake, or sea with different eyes.
— Marilyn K. Alaimo, garden writer and volunteer, Chicago Botanic Garden