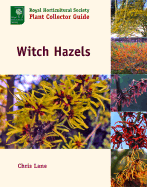 cloth, 227 p., $34.95
Just as a prophet is often ignored in his home town, witch hazel, a shrub common to the North American woodlands, has generally gone unnoticed and underused in American gardens. British nurseryman Chris Lane has written a classic monograph on the genus Hamamelis; this is the first English text on this underrated family with only four species. His extremely well researched and readable book reflects his enthusiasm for the large shrub that has so many fine qualities.
As one of nature's surprises, it puts forth strap-like flowers in the fall or late winter, depending on the species or hybrid. The fall foliage of Hamamelis virginiana, usually yellow, often hides its shy flowers, so the gardener experiences the delight of discovery when finding them in the landscape. Later blooming species and hybrids are just as enchanting for they may appear more floriferous, due to their appearance on naked branches. The plants generally prefer damp, well-drained soils. Some are hardier than others, depending on the origin of the species. The author includes maps that indicate where they were native. Throughout the book, Lane describes in detail an extensive list of cultivars, and there are 144 color photographs. An informative history of hybridization covers work done in both Europe and the United States. The author's advice on plant culture and suitable companion plantings shows his lengthy experience and close association with his favorite plant. Gardeners will find his directory of places to see and buy witch hazel excellent sources of information.
— Marilyn K. Alaimo, garden writer and volunteer, Chicago Botanic Garden