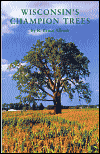 Publisher:
Wisconsin Book Publishing
paper, 111 p., $14.95
This guide to 153 champion trees was compiled from the official records of the existing species of both native and non–native trees held by the Wisconsin Department of Natural Resources, Division of Forestry, and from research by arborist R. Bruce Allison. The author re–measured individual trees and photojournalist B–Wolfgang Hoffman photographed many of the largest trees in the new handbook in their efforts to revise the first edition, published in 1980. The author discloses information on how to locate and measure a tree for readers who take up the challenge of searching out a potential champion tree.
— Marilyn K. Alaimo, garden writer and volunteer, Chicago Botanic Garden