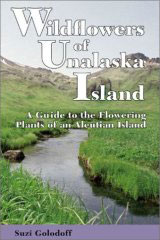 Publisher:
University of Alaska Press
paper, 128 p., $19.95
Written by a lifelong native of Unalaska Island, Wildflowers of Unalaska Island: A Guide to the Flowering Plants of an Aleutian Island is a wonderful guide to more than 160 plants thriving in this isolated and exotic locale. With plenty of color photographs and drawings, this well-written book will encourage readers to consider a trip to this beautiful island. Ethnobotanical information is included, describing the uses of the Unalaskan flora by the locales. Author Suzi Golodoff also provides a geological and ecological snapshot of the island, so we have some understanding of the context of the flora. For armchair plant explorers or researchers interested in circumpolar floras, this work provides insight into an environment quite unlike anywhere else.
— Barbara Mahany, library volunteer, Chicago Botanic Garden