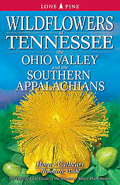 paper, 496 p., $22.95
Edited by naturalist Dennis Horn and naturalist writer Tavia Cathcart, this informative guide to the flora of a large area in the midsection of the United States covers a 16-state region. It contains descriptions of more than 1,250 species in 90 families. As the Official Field Guide of the Tennessee Native Plant Society, specific references on habitat are made to Tennessee, but extend outward into surrounding states and beyond.
The book is notable for the outstanding organization of the text plus the excellence and clarity of its photographs, edited by biologist Thomas E. Hemmerly and nature photographer David Duhl. To assist the reader in identifying an individual specimen in bloom, plants are organized by hue in a color key, which, in turn, gives references to the directory listing of each by its common and botanical names. Besides information on individual habitat, flower, fruit, leaves, and distribution, the detailed description includes valuable comments on variations in form, potential dangers from the plant, lore, and usage. The introduction to the text includes a wide range of information on the geographic and topographic influences on environment; ethnobotany; and plant conservation. The glossary has a useful illustrated guide to flower parts.
Both novice and experienced plant explorers will appreciate the convenience of this comprehensive, sturdy handbook on the flora of a broad section of the United States.
— Marilyn K. Alaimo, garden writer and volunteer, Chicago Botanic Garden