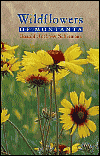 Publisher:
Mountain Press Publishing
paper, 306 p., $22.00
Environmental scientist Donald Anthony Schiemann has created a breathtaking field guide to the wildflowers of Montana. As author and photographer of this handy reference, he employs the common names most frequently used in the state to identify the family, and then in each family, he lists the wildflowers alphabetically by their scientific names. He has captured 350 plants in clear photographs for each profile of a species. He notes the general area where each picture was taken to assist potential plant explorers. Small photographs of these individual species are listed in a composite guide grouped by color, which simplifies visual identification of the plant.
The author goes even further, instructing the reader how to identify each species. In the introduction, he supplies important tips on how landscape, climate, and vegetation zones affect the diversity of wildflowers. In a readily understandable literary style, he takes the reader through basic plant characteristics, confirming the visual identification of a species. For those who wish to capture the wildflowers in photographs, he explains his personal experiences and favorite methods of capturing them on film. Schiemann's spectacular photographs of Montana and its wildflowers reflect his devotion to spreading knowledge about the grandeur of this western state.
— Marilyn K. Alaimo, garden writer and volunteer, Chicago Botanic Garden