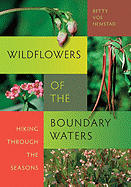 Publisher:
Minnesota Historical Society Press
paper, 272 pp., $22.95
This handy guide, created by nature photographer Betty Vos Hemstad, is filled with spectacular photographs and an informative narrative that covers the botany, habitat, usage, and legends connected with 120 wildflowers of the region. Organized according to seasonal bloom, the pages are colorfully keyed to the hue of the individual flower portrayed, for ease in identification. The author's literary style and the beauty of this work make for pleasurable reading for both armchair travelers and touring nature lovers.
— Marilyn K. Alaimo, garden writer and volunteer, Chicago Botanic Garden