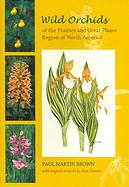 Publisher:
University Press of Florida
Decorated covers, 342 p., $29.95
Though many associate orchids with tropical forest ecosystems, native orchid expert Paul Brown has ably documented and described the rare beauties growing on the prairies and great plains of North America. His goal in this handy guide is to provide such investigative tools as maps, visual aids, and known information that will inspire in the reader an interest in searching out these wonders of nature. More than seventy species and varieties are out there to be discovered by the curious and intrepid. In Wild Orchids of the Prairies and Great Plains Region of North America, the author provides valuable tips on when and where they may be found. Botanical illustrator Stan Folsom's artistic contributions of line drawings ably assist in their identification.
— Marilyn K. Alaimo, garden writer and volunteer, Chicago Botanic Garden