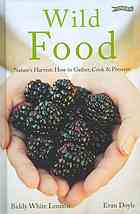 Cloth, 256 pp., $25.95.

In this combined field guide to edible native plants and cookbook, the reader will discover the delicious native foods of Ireland. The wild foods, so called by the creative Irish cook and co-author, Biddy White Lennon, are listed in the book's contents along with the months when they emerge, as well as when they may be harvested in Ireland. She provides tips on how to identify each wild food in its habitat and cites recipes to create meals in combination with local wines and beers. Evan Doyle's offerings include enticing wild food recipes from his fine dining restaurant, The Strawberry Tree. Another section of the book features food preservation and the importance of wild food sustainability so that generations to come will enjoy Mother Nature's treats.
- Marilyn K. Alaimo, garden writer and volunteer, Chicago Botanic Garden.