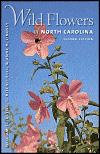 Publisher:
University of North Carolina Press
paper, 376 p., $19.95
To heighten awareness of the wild plants that are native or naturalized in this southern state and the surrounding region, William S. Justice and C. Ritchie Bell first published this popular guide in 1968. Notable for its concise, understandable text, the new edition contains a laudatory introduction to the topic, followed by descriptions and photographs of 500 species of flowering plants with a key code of summary characteristics. General comments for individual plants include where and when they bloom, whether they are poisonous, and if Native Americans used them as food and medicine. Since so many native plants are threatened by the overpopulation of deer, the authors have updated the guide with a report about the endangered status of each plant. There are several handy charts that serve as quick references to horticultural characteristics.
With its clear, full color flower portraits and its expanded text and reference materials, this edition continues to uphold the publication's reputation as a model guide in field botany for gardeners, budding naturalists, and educators.
— Marilyn K. Alaimo, garden writer and volunteer, Chicago Botanic Garden