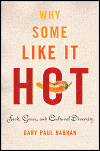 cloth, 233 p., $24.00
The theme of this fascinating text by ethnobiologist Gary Nabhan is the connection between an individual's genetic and cultural heritage and nutrition. He presents case studies across the globe that strongly suggest that where ancestors lived and what they ate affected their descendants' genes. He focuses his discussion on nutritional eco-genetics, the study of the effect of long-term consumption of certain foods that seem to shape genetic variations. In order to live healthier lives, he urges that one must understand these connections with the past. Those who ignore such heritage may endanger their lives through improper or fad diets.
As the title suggests, he also directs attention to clinical studies that reveal that individual differences in body makeup will also affect food selection, even among ethnic populations. He uses the example that the degree of intensity of discomfort from ingesting a hot pepper varies widely among a selected population of similar background.
The publication is meaningful not just to scientists, but to anyone interested in understanding how to achieve good health and the plants that affect it. The author's literary style is notable as he takes the reader along on his journeys of discovery, describing in intimate detail the researchers whose work is reported. Unfortunately, the appendices do not include a glossary to assist average readers with scientific terminology.
— Marilyn K. Alaimo, garden writer and volunteer, Chicago Botanic Garden