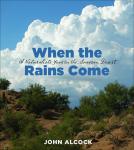 Publisher:
University of Arizona Press
paper, 334 pp., $21.95
Naturalist John Alcock leads the reader into the Sonoran Desert, pointing out the changes in the environment that take place over the seasons and decades. Although the landscape appears to remain the same at a casual view, this is not the case. His detailed observations and accompanying color photographs provide startling evidence that this is not a wilderness but a habitat containing plants and creatures anxiously awaiting rain. In his engaging discursive style, he reports on his treks over a year, providing his intimate view of this challenging realm of the saguaro cactus.
— Marilyn K. Alaimo, garden writer and volunteer, Chicago Botanic Garden