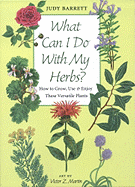 Publisher:
Texas A&M University Press
paper, 134 pp., $19.95
Encouraging the reader to become acquainted with herbs, journalist Judy Barrett has compiled an attractive, complete guide to the history, culture, and usage of 40 popular herb plants for the garden. Commonly used as medicine, seasoning, food, or for their fragrance, herbs add so much to the quality of life, as the author indicates in the broad-ranging text that tells how to enjoy them. The author discusses traditional uses, and suggests herbs suitable for health regimens and as aromatherapy, as well as the most recent warnings on those that may be poisonous or injurious. Attractively illustrated with colorful drawings of profiled plants for easy identification, this handbook is delightful.
— Marilyn K. Alaimo, garden writer and volunteer, Chicago Botanic Garden