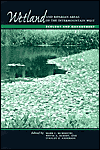 Publisher:
University of Texas Press,
cloth, 384 p., $39.95
The ecology and management practices of wetland and riparian areas between the Rocky Mountains and the Sierra Nevada, diverse and valuable habitats extending over territory in eleven western states, is the subject of this publication, edited by a trio of experts in the field of wildlife research. After first recognizing the critical nature of the availability of water in the lives of both man and animal, editors Mark McKinstry, Wayne Hubert, and Stanley Anderson have selected works that review these habitats, and then they focus on areas where further research is needed.
Before delving into the ecology and practices, the editors review the legal issues and regulations that affect these areas, which are next described in some depth. Following chapters are concerned with raparian/riverine systems including important taxa; natural and created palustrine wetlands that can support aquatic vegetation; and finally, classification and evaluation techniques for identifying these areas in the region.
Although this text serves primarily as an introduction to the study of wetland and riparian areas in the Intermountain West and is meant for wetland managers, biologists, and researchers, it will also appeal to environmentalists concerned about saving important habitats.
— Marilyn K. Alaimo, garden writer and volunteer, Chicago Botanic Garden