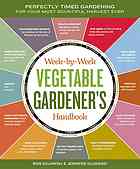 paper, 199 pp., $14.95
Whether novice or experienced, a gardener will be motivated by this handy guide to scheduling plantings and their maintenance for a more bountiful harvest. The father-daughter team of knowledgeable horticulturists explains the importance of planning gardening activities using a calendar, which is based on the last and first frost dates for a region. They discuss the selection of a vegetable garden site, soil conditions, and cover crops, prior to an extensive week-by-week review of popular crops for various environmental conditions and connected tasks through the growing season and into harvest. Extensively illustrated with drawings of helpful tips, the pages of this journal contain space for a gardener's notes and personal reminders.
— Marilyn K. Alaimo, garden writer and volunteer, Chicago Botanic Garden.