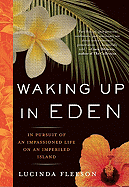 Publisher:
Algonquin Books of Chapel Hill
paper, 310 pp., $13.95
Waking up in Eden is an apt title for this book. Lucinda Fleeson guides the reader through parallel experiences of discovery and life change against a backdrop of the National Tropical Botanical Garden (NTBG). The NTBG is located in Hawaii on the island of Kauai. While the author recounts her journey the reader learns about other "transplants" — non–indigenous species, that many thought were indigenous, are revealed. These discoveries parallel stories of non–native settlers, including the Allertons of Chicago.
Robert and John Allerton were Chicago millionaires who orginally built the Kauai estate that eventually became the centerpiece of the NTBG. Hawaii has only about a thousand native plants. Of these one thousand, 89 percent are indigenous. The Hawaiian flora is fragile by virtue of the fact that these plants are irreplaceable; there is no genetic safety net. Once plants were rooted, they evolved with specialized traits required by island ecology, where high mountains rose precipitously from beaches, and rain forest or bog at one level turned into dry forest only a few hundred feet lower, and around the corner, wind–tormented drought.
As time progressed settlers — including Polynesians, pirates, Captain Cook, American missionaries, and Chicagoans — arrived. Along with these new immigrants came new plant and animal species. The Allertons continued this tradition when they acquired an old sugar plantation. Some wondered if Robert and John were motivated by Hawaii being considered a place of escape. They went on to design something unlike the natural Hawaiian landscape. Fleeson notes that "[i]t is an unleashed fantasy of nature, a Chicagoan's view of a jungle jammed with tropical greenery and flowers from all over the world." After John Allerton's death in 1986 the NTBG has become one of the most advanced and largest plant conservation operation in the Hawaiian Islands.
Ms. Fleeson likened her experience of leaving a career in her 50s to that of other accomplished women, including Virginia Woolf, who awakened to their true selves and voices, while also trying to figure out a narrative for aging. There is an old garden proverb: "Why not go out on a limb? That's where the fruit is." Well, that is exactly what this book teaches through the collective experiences and stories of the Allertons and Lucinda Fleeson.
— Amy M. Lewitz, master gardener and plant information volunteer, Chicago Botanic Garden