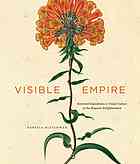 Publisher:
University of Chicago Press
cloth, 286 pp., $55.00
Visual Empire depicts the important work of explorers and collaboration of artists and naturalists in their efforts to document the botanical wealth of the Spanish empire outside Europe for commercial and scientific reasons during the Age of Enlightenment. During that period, some 12,000 minor works were created. Bleichmar reflects on the importance of these paintings, preserved in the archives of Madrid's Royal Botanic Garden. Bleichmar observes that some works might be considered unfinished, but in fact were purposely incomplete. The author closes this volume with the comment that her purpose in this survey is to "open up an inquiry" and scholarly investigation into this field of science.
— Marilyn K. Alaimo, garden writer and volunteer, Chicago Botanic Garden.