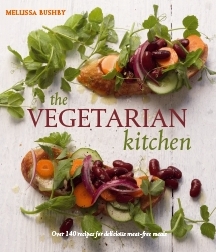 decorated boards, 176 pp., $27.00
The Vegetarian Kitchen is a true revelation to a carnivore. The photographs and recipes in this book are eye-opening and appetizing. It is not surprising that this book was published in Cape Town, for this city is the first African city to endorse a meat-free day a week.
Every aspect of vegetarianism is covered in this work, including a dairy-free recipe for "cheese and mac." Some of the recipes address common ailments, such as arthritis, extending the boundaries of this work. True, the recipes are long on tomatoes, beans, and chick peas, but accompanied by other ingredients and spices, you will find these mealtime solutions a true change of pace. Read this excellent book and you will be converted.
— Adele Kleine, volunteer, Chicago Botanic Garden.