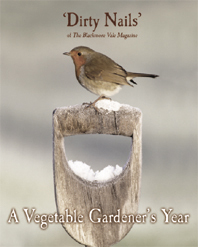 Publisher:
Spring Hill (imprint of How To Books, Ltd.)
paper, 224 pp., $26.00
A wildlife consultant and writer living in Dorset, this anonymous British author gives an account of the activities of a dedicated vegetable gardener. In addition to practical advice on weekly chores in the greenhouse and garden plot, there are dispatches on the immediate environment. This includes insects in the water barrel, difficulties with fellow gardeners over allotments of land, and related issues and observations. There is a constant reflection on the environment in this journal, making for compelling reading for the nature lover. In addition, recipes and a glossary add local interest for all readers.
— Marilyn K. Alaimo, garden writer and volunteer, Chicago Botanic Garden