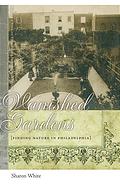 Publisher:
University of Georgia Press
cloth, 206 pp., $28.95
Reminiscing on gardens of the past, author Sharon White leads the reader through the landscapes of Philadelphia, directing attention to fabled places that once brought peace and beauty to the city's residents. In her sparely written text that reflects her love of poetry, she explores the natural history of the region and tells of changes to the scenery after pioneers put spades to the land. She cites the history of such prominent citizens as botanist John Bartram, who settled in Penn's town and created notable gardens. Her narrative weaves her own very personal story with past history, contemporary scenery, and Philadelphia's many challenges.
— Marilyn K. Alaimo, garden writer and volunteer, Chicago Botanic Garden