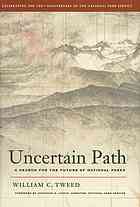 Publisher:
University of California Press
cloth, 236 pp., $24.95
In this reflection on his career as a park ranger, author William Tweed documents his route and ponders the future of the national parks as he treks over 240 miles in the High Sierra wilderness to end his journey in Sequoia National Park. Troubling thoughts were his companions during his trip. When there were such obvious changes in the ecosystem, he asks himself and the reader whether the National Park Service should "mothball" the wild country, creating a park system that is not relevant to the significant evolutionary processes that have taken place during the last 100 years since its founding. As a historian, he knows that climate change and habitat fragmentation, as well as the pressure from global population, have altered the precious wilderness. He urges readers to study public land issues and to understand the philosophy that led to the founding of this natural heritage.
— Marilyn K. Alaimo, garden writer and volunteer, Chicago Botanic Garden