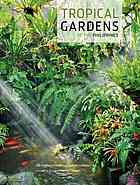 Cloth, 244 pp., $44.95
This book features 42 gorgeous, abundant tropical gardens around Manila and its suburbs. The photographs of lush tropical foliage and rich colors of the flowers are almost real enough to touch. Almost all of the gardens were designed by professionals. Some are in the English style, and some borrow the planting style of the late Brazilian Roberto Marx. In all of the gardens, the plants play a major role around the house. This is a deluxe coffe-table book.
In one photograph, you will see a pool that beckons you, fruits beside it waiting for you to taste. In stark contrast to the pristine water feature, a small pond defines the character of the garden. It act as a haven for wildlife, attracting frogs, dragonflies, and birds, with a range of rooted aquatic plants, rootless floaters, and submerged oxygenating plants covering the water.
— Adele Kleine, volunteer and Master Gardener, Chicago Botanic Garden and writer, 
Chicagoland Gardening magazine