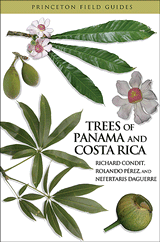 Publisher:
Princeton University Press
paper, 494 pp., $45.00
Covering more than 500 tropical tree species of Panama and Costa Rica, this is the first field guide on this diverse subject. Written by scientists in the fields of tropical plants, botany, and forestry, the text initially offers an overview of the subject, touching on the diversity of the tropical vegetation, the need for plant identification, and the species and areas examined in the handbook. Following these chapters, the text presents a directory of plant profiles with concise descriptions that include key characteristics, number of genera and species, as well as more than 400 high-resolution color photographs of the profiled subjects, detailing bark, leaf, flower, or fruit of each species. Distribution maps in color assist the reader to locate the range of identified species. The supplements to the directory include a useful glossary, a table of major leaf traits, and miscellaneous reference materials.
— Marilyn K. Alaimo, garden writer and volunteer, Chicago Botanic Garden