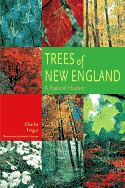 paper, 313 p., $16.95
The trees of New England attracted colonists to America, and they still serve as a magnet to many who appreciate their variety. When settlers first sought our shores, the heavily forested landscape indicated wealth in a natural resource that was urgently needed by the mother country. Although many of the old-growth trees have been cut down, naturalist Charles Fergus tells about their natural history from reproduction to their uses by people and animals.
He divides his text into native and non-native species commonly found in today's woodlands. Continuing where the usual field guide ends, the contents expand with profile descriptions, covering characteristics and such details as how they were used for food and medicine. In addition to personal anecdotes, the author includes comments on local lore and traditions. The book is nicely illustrated with line drawings by artist Amelia Hansen. A glossary and list of reading references rounds out this thoroughly delightful book.
The author has the gift of storytelling. He has the ability to make technical information easily understandable and interesting in just a few words. He'll make every reader a tree lover.
— Marilyn K. Alaimo, garden writer and volunteer, Chicago Botanic Garden