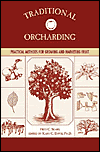 paper, 315 p., $14.95
Originally published in 1914, this guide recalls the traditions of commercial fruit growing nearly a century ago. Considered one of the most authoritative works on the subject, it was used as a textbook for generations of students of agriculture. Both the historical illustrations and the literary style evoke earlier, simpler times, when horses supplied the power to pull the wagons and tractors.
Historians and others who are interested in orchard gardening a century ago will find the book of interest, if not fascinating as they look back in time. Some of the same directions still hold true today, such as put your order for new stock in early with the nursery supplier. However, there have been so many changes in plant culture since that era, gardeners should be warned that many of the suggested methods of operations are no longer suitable. Special thanks go to the publisher for bringing back a popular handbook of yesteryear on orchard operations.
— Marilyn K. Alaimo, garden writer and volunteer, Chicago Botanic Garden