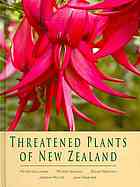 Publisher:
Canterbury University Press
decorated boards, 471 pp., $64.95
Increasing pressures on the New Zealand environment have led to a need to alert its citizen to the negative impact on native plants. Sadly, many threatened plants have not been recognized with scientific names and will likely disappear before they receive their official taxonomic identity. This book serves as a tool for both scientists and interested naturalists in the identification of 189 species of New Zealand's most threatened plants (24 species are known by fewer than 200 individuals). The individual plant profiles contain a description of characteristics, distribution (with a locator map indicating its major plant population), a description of habitat, the status of endangerment, and a photograph. The authors discuss plant management problems encountered in the southern hemisphere and the importance of stimulating strong public interest in conservation.
— Marilyn K. Alaimo, garden writer and volunteer, Chicago Botanic Garden