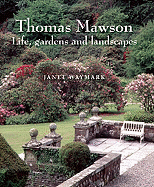 cloth, 240 pp., $60.00
Thomas Mawson (1861–1933) was an Edwardian landscape designer as well as town planner in the United Kingdom, North America, and Europe. His books — The Art and Craft of Garden Making (1900) and Civic Art (1911) – were influential. This book describes not only Mawson's life but the evolution of planning and landscape architecture a century ago.
The story of Mawson's life starts with his humble beginnings near Lancaster with little formal education, to a flourishing business with clients ranging from industrialists to the king of Greece. The book is full of color illustrations and reproductions of plans and other documents, reflecting the diversity of Mawson's activities. This enjoyable and accessible book will be of interest to anyone interested in the history of landscape architecture and planning in the last century.
— Elaine Juhl, volunteer, Chicago Botanic Garden