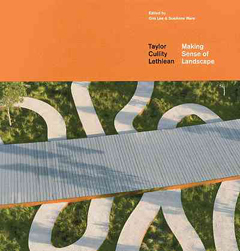 cloth, 191 pp., $35.00.

This attractive, well-illustrated, and curious book is in homage to the values and creativity of Taylor Cullity Lethlean, an Australian firm specializing in landscaping, urban design, and architecture. Australia presents a large number of challenges to anyone attempting to tame a beautiful but unforgiving environment. Fortunately, there is some recognition of these issues, for on almost the first page of this work (verso of the title page), Kevin Taylor writes: "In Australia we are progressively waking up to our not knowing that we don't know. We are realising that we do not know this place."

In three large sections, entitled "Narrative," "Material Presence," and "Civic," a collection of essays and stunning photographs describe Taylor Cullity Lethlean's approach to Australia. Some are breathtaking, such as the Uluru-Kata Tjuta Aboriginal Cultural Centre, a kilometer from Uluru. Gini Lee's essay explains the logic of the setting for this Centre; I agree that "Uluru is not just the rock" that to many it represents Australia and its ancient cultures and histories. It is not without symbolism that the color of the binding of this book is Uluru-like.
A delightful collection of thought-provoking essays and delicious images, this book will continue to beckon you to study its pages for many years.
—Edward J. Valauskas, curator of Rare Books, Lenhardt Library, Chicago Botanic Garden