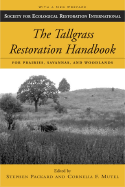 paper, 463 p., $37.50
Just fifty years ago, when Americans discovered that their old prairies were quickly disappearing, they began to return the Midwest landscape to its original ecosystems. Those interested in conservation took steps to understand the nature of these habitats and to repair the damage to the fragile environment. During the intervening years, lessons have been learned from these studies on how best to expedite the preservation and restoration of these landscapes. Due to its repeated success, prairie restoration has served as the prototype of the restoration process for other works. This popular manual on Midwest ecosystems contains an update on the latest research and guidelines on restoration techniques.
After a discussion of the different ecosystems, the text reviews the factors to consider when planning a restoration and identifies the steps in the planning process. The next section explores the types of seeds and planting procedures. The contributors then discuss project management — long-term dedication to a given project, including burns to eliminate competitive vegetation. In addition to monitoring vegetation, restoration efforts must include protection, restoration, and monitoring of animal life. Among the extensive appendices is a list of plants and animals of Tallgrass prairies, a cross-reference of botanical and common names, sources of seeds and equipment, and other pertinent reference materials.
This practical, readable manual is recommended to all conservationists and those concerned with the management of the natural landscape in the Midwest.
— Marilyn K. Alaimo, garden writer and volunteer, Chicago Botanic Garden