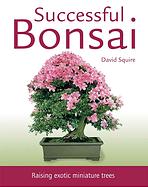 paper, 158 p., $19.95
Gardeners who have plenty of patience and time are sure to be tempted to start a new gardening hobby after reading this practical manual by British author David Squire. Lavishly illustrated with photographs and drawings so large and clear they seem to leap from the pages, the book guides the reader through the craft of bonsai, a traditional artistic method of training plants into miniature forms.
Originally practiced in China, India, and Japan, the hobby is a challenge to the artistic and horticultural capabilities, as well as dedication, of today's gardeners. Focusing on bonsai that are principally grown indoors, the writer takes the reader from selecting and raising new plants or seeds to their eventual maintenance care. The comprehensive text includes sections on choosing and training indoor bonsai; their general culture, including treatment for pests and diseases; and detailed descriptions of popular species that are used for this craft. The step-by-step instructions are understandable. They tell both how to do each stage and why it is being executed. When describing suggested species, the author provides tips on site selection and indoor temperature, soil, watering, feeding, and training. Accompanying icons suggest styles to consider when training the plant, so the gardener may refer to care instructions.
— Marilyn K. Alaimo, garden writer and volunteer, Chicago Botanic Garden