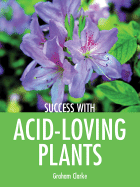 Publisher:
Guild of Master Craftsman Publications Ltd., (distributed in the U.S. by Sterling)
paper, 159 pp., $14.95
An experienced horticulturist and garden writer, Graham Clarke handily explains the nature of acid soils, how to evaluate pH levels, and the many challenges of growing plants in difficult conditions. In this attractively illustrated work, his narrative takes into account the design and planting of a garden featuring acid-loving plants, in addition to their yearly maintenance. There is a directory of plants for both indoors and outdoors in a separate section. It lists descriptions that cover plant characteristics, including hardiness zones and preferred pH ranges of individual species. A valuable feature is the listing of preferred soils for a broad range of ornamental and food plants.
— Marilyn K. Alaimo, garden writer and volunteer, Chicago Botanic Garden