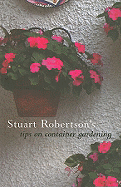 paper, 174 pp., $C16.95
This is a wonderful, informative book for anyone planning to put a plant in a pot of any kind. Stuart Robertson is the gardening columnist for the Montréal Gazette, is regularly heard and seen on the CBC in Montreal, and has been a freelance writer for more than 25 years.
Well-organized, this book begins with a basic question: "What makes a good container?" This query is followed by descriptions of planting mixes, advice on watering and feeding, and ideas about selecting the proper plants for a variety of locales. Remaining chapters cover growing food in containers, special techniques, answers to other problems.
Interspersed throughout the book are little sketches by Robertson, which are helpful. He even provides plans for round or window box containers. In some cases, Robertson debunks common myths about container gardening, such as the notion that gravel at the bottom of a pot will improve drainage.
Each step in choosing a container, selecting a location with proper light, filling the container, and caring for plants is laid out in easy-to-understand ways. He suggests, for example, a number of plants you would have never considered appropriate for planting. Whether you have a garden or terrace in need of color, or you would just like to add plants indoors, this book will generate some new ideas.
— Joan Richards, volunteer, Chicago Botanic Garden