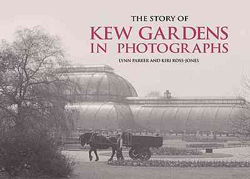 Cloth, 208 pp., $25.00.

The authors, Lynn Parker and Kiri Ross-Jones, seek to acquaint readers with the development of Kew Gardens through photographs of the people, structures, and plants that recorded its evolution from a private, royal botanic garden into the great institution it is today. Noting that the new technology of the period offered inventors and early photographers with the tools to record the Gardens' growth, Parker and Ross-Jones have collected photographs from all sources. Their collection forms the core of the historic collection, producing an engaging story of a beloved site. The earliest illustration, a daguerreotype, provides a fragile image of the Palm House exterior; the following illustration documents the construction of the building. Each photo is accompanied by a story: the leaders of the organization; the construction of Kew; its expansion into imperial territories; plant hunting; development of Kew as a public garden; the comradeship of staff; Kew during wartime and postwar years; and continuing challenges to the plant collections, including the seed bank.
— Marilyn K. Alaimo, garden writer and volunteer, Chicago Botanic Garden.