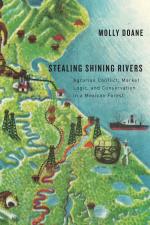 Publisher:
University of Arizona Press
cloth, 203 pp., ISBN , $50.00
What rights do native people have over the environment in which they have lived for centuries? This is the question that Molly Doane, an anthropologist, discuses in a case study of a forested habitat in Mexico. She untangles a web of claims of property ownership in her attempt to discover land titles in a nation that has had disturbing records of land ownership for years. When environmentalists — including the World Wildlife Fund — attempt to set up a nature reserve through the 1990s, the people of the region explode with personal sentiment. This is the remarkable story of the success of ethnic peoples battling with government policies.
— Marilyn K. Alaimo, garden writer and volunteer, Chicago Botanic Garden