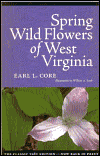 Publisher:
West Virginia University Press
paper, 104 p., $16.50
The distinguished botanist Earl Core first published this handy pocket reference to the spring wildflowers of West Virginia in 1948. The text includes both the common and scientific names of nearly 250 species of forbs that are native to the state. The individual profiles contain brief descriptions of form, uses, and locations of their natural habitat. Each is beautifully illustrated with an exquisite line drawing by William A. Lunk.
Regretfully, the organization of the book is weak. The plants are not listed alphabetically, either by common or scientific name. They appear to be grouped by common characteristics, but these are not identified in the text. Unlike similar recent publications in the field, the plants are not keyed by flower color to assist the reader in identification. Only an index is provided for reference. Although the plants are described in simple terms, there is no glossary for less common scientific terminology. Despite these problems, the book is valuable for its detailed references to specific habitats. Knowing the West Virginia habitats for individual species at the time the book was first published, botanists and naturalists may compare these descriptions with same environment today.
— Marilyn K. Alaimo, garden writer and volunteer, Chicago Botanic Garden