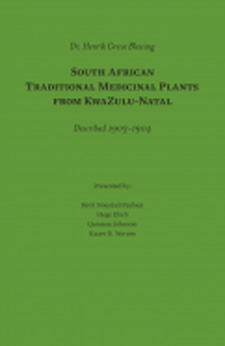 Publisher:
Unipub Norway (distributed in the U.S. by International Specialized Book Services, Portland, Ore.)
paper, $59.00
These volumes represent a major effort to understand the research of Henrik Greve Blessing (1866–1916), a Norwegian physician who described and photographed medicinal plants in 1903 and 1904, while assisting Norwegian missionaries in Africa. His notebooks were saved by his family, and, in this publication, appear for the first time in print. One volume reproduces Dr. Blessing's notebooks while a second volume provides a modern update to his reseach. This two-volume work was printed in a limited edition of 600 copies.
This work represents an unusual collaboration of pharmacists and chemists who examined Blessing's excellent records of traditional medical practices a century ago. Altogether, the researchers were able to confirm 95 of the 98 plants originally described by Blessing in Norwegian, with Zulu names. The two volumes work together well, with the modern descriptions corresponding directly to Blessing's annotations. The cooperation of South African and Norwegian scientists truly make the original archival documents come to life, creating an invaluable historical and botanical work.
— Adele Kleine, garden writer and volunteer, Chicago Botanic Garden