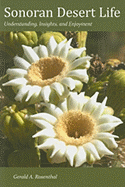 Publisher:
Academic Insights (distributed by the University of Arizona Press)
paper, 306 pp., $27.95
This exceedingly comprehensive, handy guide to the diversity of plant life and examples of unique fauna in the Sonoran Desert in southwestern Arizona and parts of California and Mexico is the work of Gerald Rosenthal, a prominent American educator and research scientist in botany and plant biochemistry. With a decade of experience in observing this arid environment that covers approximately 120,000 square miles, the author is a recognized authority on one of the most challenging environments in the world. The hottest of the North American deserts, this habitat is noted for its extremes in temperature and annual precipitation. A suitable reference for both the casual browser and the more serious reader intent on understanding the biological principles behind a plant's characteristics, the text is organized by plant type, beginning with signature plants of the environment—cacti, yucca, and others. These sections are followed by descriptions of annual and herbaceous flowers, organized by color. The final section lists shrubs and trees as well as perennial plants of greater stature in the habitat. Heavily illustrated with colorful photographs and drawings, the individual descriptions relate the general form of each plant, including its flower, leaves, and bark, noting any interesting traits. This work includes an extensive glossary coordinated with the text, a listing of plant family characteristics, and an index for cross-referencing plant names, all useful in plant identification. This book is highly recommended for the author's ability to communicate more complicated principles of botany in an easy-to-understand narrative.
— Marilyn K. Alaimo, garden writer and volunteer, Chicago Botanic Garden