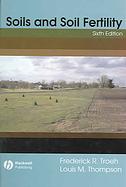 Publisher:
Blackwell Science for the Royal Horticultural Society
hardcover, 489 p., $89.99
This popular textbook by agronomists Frederick Troeh and Louis Thompson is based on both of their educational and professional experiences in the United States and abroad. This comprehensive book's content covers both rural and urban land, golf course turf, and soils adapted for greenhouse use. It includes chapters on soil chemistry, mineralogy, fertilizers, soil pollution, erosion, and water-related concerns. Well-organized, it provides students with a broad background on the subject. Each chapter includes questions for students' review of that text and a related reference bibliography. Like earlier editions, the authors have used the most recognized unit of measurement in the United States for the size of the element being measured, e.g. either the metric or the foot-pound systems. The appendices include the definitions of these units of measurements, as well as an expanded glossary. Besides serving as a course textbook, this is an excellent reference work in the field.
— Marilyn K. Alaimo, garden writer and volunteer, Chicago Botanic Garden