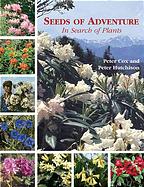 Publisher:
Garden Art Press (distributed in the U.S. by Antique Collector's Club., Inc., Easthampton, Mass.)
cloth, 415 pp., $75.00
Frequent travelers into remote regions for nearly five decades, the authors relate in this journal their fabulous ventures into Turkey, India, Nepal, Tibet, Bhutan, and China in search of rare and unusual species of plants. In this sumptuously illustrated volume, they captured in their breathtaking collection of photographs the inaccessible cliffs, magnificent forests and broad valleys, deep gorges, rapid waterways, and astonishing splendor of towering, snow-covered mountains that challenged their journeys. Featuring rhododendrons, the exquisite plants portrayed in their native habitats, was the goals of their expeditions. The informative diary with relevant maps traces their treks in plant hunting so the reader can share in the excitement of their discoveries. The authors are fine travel raconteurs, describing the tribal people and exotic places they saw while seeking the seeds of plants they would introduce to the gardening world. Peter Cox and Peter Hutchison have produced a classic work on contemporary plant explorations, one that is highly recommended to all gardeners and armchair travelers.
— Marilyn K. Alaimo, garden writer and volunteer, Chicago Botanic Garden