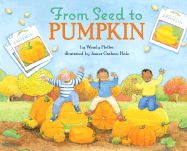 cloth, 33 p., $15.99
This "Lets–Read–and–Find–Science" book explores the growth cycle of pumpkins. Detailed illustrations provide an engaging visual for students to watch the development of a pumpkin from seed to picking. Vibrant colors are used throughout the detailed drawings and figures that are sure to capture the interest of children. These colorful drawings and figures allow students to experience the life cycle of a pumpkin seed as it grows from a seed in spring, to a plant in summer, to an abundant pumpkin patch in the autumn months. Students also receive a view of what takes place underground to help a pumpkin seed grow into a healthy, orange pumpkin!
At the end of this book, students can follow a recipe for roasted pumpkin seeds, along with an experiment to learn how pumpkin roots help bring water to the pumpkin to help it grow! This book is appropriate for children grades Pre–K to fourth grade.
— Katie Eichberger, Intern, Center for Teaching and Learning, Chicago Botanic Garden