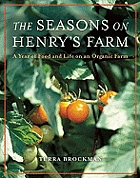 cloth, 310 pp., $25.00
This is a wonderful record chronicling the year on Henry Brockman's farm. Henry, the author's brother, maintains a sustainable farm in central Illinois with his Japanese wife, Hiroko. The author has degrees in biology and English and was a teacher, writer, and editor. Her background is reflected in her diverse references from literature and her own experiences.
Terra Brockman gives the reader a view of the world of the farm, and a glimpse of a greater world of literature and art. With the log of daily activities throughout the year, and interesting recipes, this book offers the reader a bountiful and varied feast. Read it and be joyful that you can take advantage of the produce from Henry's farm without the unending labor.
— Joan Richards, volunteer, Chicago Botanic Garden